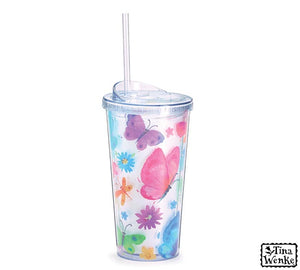 Insulated cup with multi colored butterflies & flowers
Includes clear lid and straw
7 1/2" X 3 1/4"Opening
Holds: 20oz.
The perfect gift!
Our Butterfly Blessings insulated Travel Cup is the perfect gift to brighten someone's spirits. Every time they use this beautiful cup they will be happy, what's not to be happy with about butterflies and flowers? To keep it looking great please hand wash only. And remember, your satisfaction is always guaranteed at Lucy's Gift!