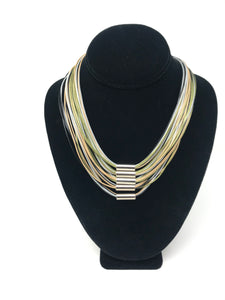 Magnetic clasp necklace
Multi-colored earth tone wax cotton cords and gold tubes
Designer jewelry handmade in Israel

B-JWLD was launched in 2004 by Vered Milner, of B-JWLD.  Today, we're proud to not only count her as a friend, but to also offer our customers the opportunity to enjoy her remarkable creations, hand crafted in Tel Aviv, Israel using the highest quality raw materials.
This multi colored corded necklace features wax cotton cords and striking, golden silver tubes.  It's not only exceptionally easy to look at but also to wear, with its easy open/close, magnetic clasp.  Its flowing design makes a truly unique fashion statement.  You can be sure to dazzle your friends with this unique piece that is as much art as jewelry.